Specially produced ribbon curtains
Do you need ribbon curtains or plastic slats for your machines or systems? We manufacture ribbon curtains to measure in PVC, silicon or neoprene, for example. Ribbon curtains allow you to cut down on your energy usage, minimise dirt and allow goods to travel safely and smoothly through your facilities.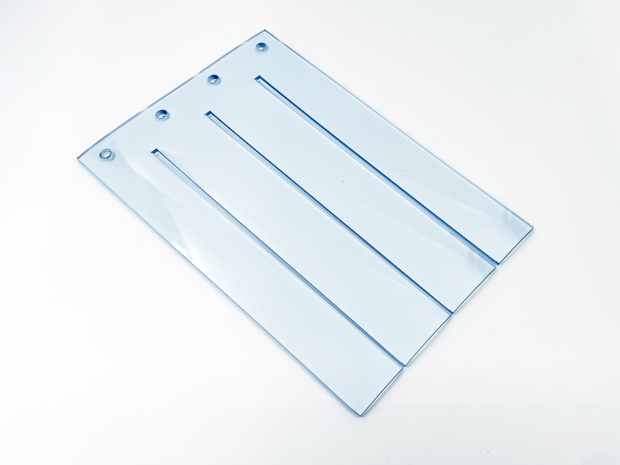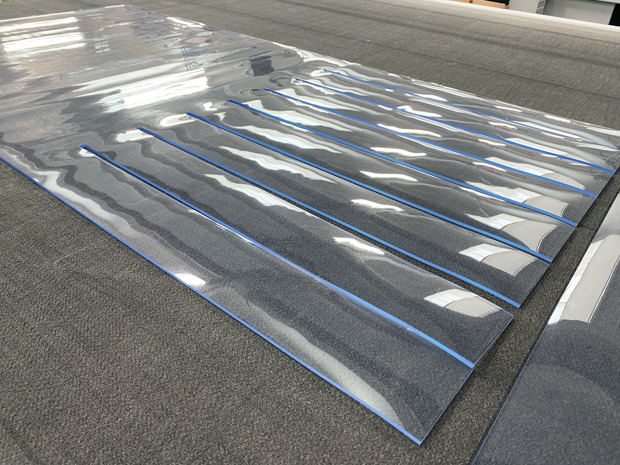 Plastic ribbon curtains made to your measurements
Induflex manufactures ribbon curtains and slats in rubber and plastic for customers in a wealth of industries. We can also produce food contact-approved ribbon curtains and plastic slats.
We cut ribbon curtains exactly to your specifications. For example, where there are gaps or cuts in specific angles, these can be incorporated so that, when you receive the finished curtains, they will be ready to hang on or around your machinery.
Our large choice of materials means that you can have the ribbon curtains in exactly the material, shape, lengths, widths and thicknesses you require.
Production in Denmark, with fast delivery
If you order ribbon curtains from us, we will make them in our Støvring production facilities. If we have the material in stock, we can cut your ribbon curtains within five days.
Contact us for more information about the current warehouse stock and delivery times.
Ribbon curtains in PVC, silicone or neoprene
We make your ribbon curtains in the material that is best suited to your needs.
The three types of material that we use on a regular basis for ribbon curtains are soft PVC, silicone and neoprene.
Ribbon curtains in silicone
Silicone curtains can be used to advantage in environments where food-approved materials are a requirement. Silicone is one of the few rubber materials that are food-approved by the FDA.
In addition, the material tolerates temperatures down to -60° C and right up to 230 °C, which means that it can be used both in deep-freeze and in heated areas.
Another bonus is that silicone is available in various colours, including clear, frosted white, white, black and blue; the latter is available with metal-detectable additives.
Ribbon curtains in soft PVC
Transparent soft PVC is an ideal material for ribbon curtains. It is especially resistant to chemicals – whether acids or bases.
Like silicon, PVC is available in a food-approved (FCM) version in certain dimensions. We can therefore make food-approved ribbon curtains for you.
PVC can be used at temperatures from -15° C to 125° C.
If you need PVC ribbon curtains for a deep freeze area, we recommend PVC Polar. This PVC can tolerate temperatures from -40° C to 25° C.
Soft PVC may have a tendency to attract static electricity, so the strips in the curtains can in certain conditions clump together. This can be counteracted through the use of double-ribbed PVC.
Double-ribbed ribbon curtains in PVC
For an extra-hard-wearing ribbon curtain, you can use double-ribbed PVC. The ribs have the effect of stopping static electricity from occurring. The curtain strips will not stick together, and moreover, the material is especially hard-wearing.
Ribbon curtains in neoprene rubber
If you need slatted curtains that are acid- and base-resistant as well as demonstrating hard-wearing properties, neoprene, also known as chloroprene rubber (CR) rubber strips are a good choice for making your curtains. Note that neoprene rubber is black, and not see-through.
Ribbon curtains can be used at temperatures from -30° C to 110 °C.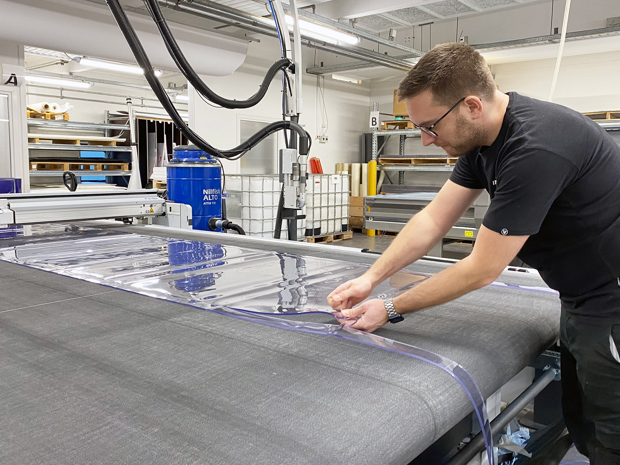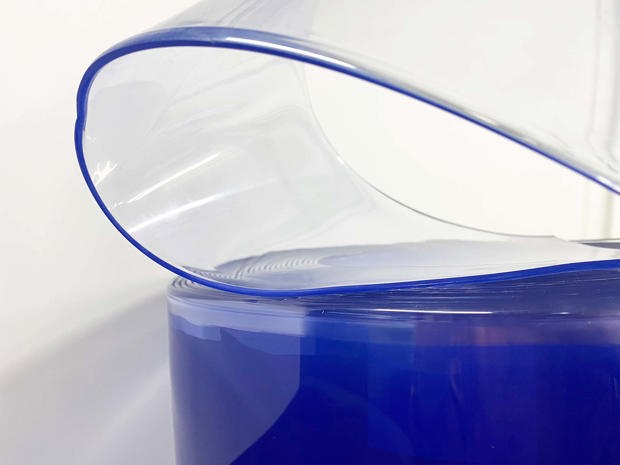 The purpose of ribbon curtains
Ribbon curtains can be used to separate a room, hall or zone in a building, or to curtain off a machine or system.
Ribbon curtains or plastic strips are often used for the following reasons:
Energy optimisation (insulation for cold or warm areas)
Frost-proofing
Preventing dust or other dirt from spreading between two areas
Reducing noise between two areas
Reducing damp
Minimising draughts
It is also possible to add ribbon curtains or plastic slats to machinery or systems where goods must travel in a safe and steady way from one place to another.
Would you like to know more about ribbon curtains?
If you are interested in knowing more about the materials and what would be appropriate for your needs, please feel free to contact us.
If we have the material in stock, we can dispatch your finished ribbon curtains within five days.
We are happy to provide a non-binding offer on the basis of your measurements or a drawing.