Polyester (PET)
Do you need a clear material that can withstand chemicals and is recyclable? If so, PET, better known as polyester, may be the right choice for you.
What is PET?

PET is a thermoplastic synthetic material which is often called polyester. PET has the chemical name polyethylene terephthalate and is also known as APET. PET is a clear material with high light transmission of 89 %.

PET can either be supplied as an amorphous thermoplastic (APET) or as a part-crystalline thermoplastic (CPET). On this page, we will describe amorphous PET. For part-crystalline PET (PET-P), see here.
PET is known under the brand name Axpet®.
In what shapes and dimensions can PET be supplied?

PET can be supplied in sheets of various dimensions and thicknesses – see more in our product range.
In the video below you can see a PET sheet getting laser cut.
Processing PET

Induflex machines, laser cuts and cuts PET blanks, each method dependant on the type of task or item we are dealing with.

PET lends itself to printing or batch printing and it can also undergo cold or heat bending.

PET can be cold bent if its thickness is under 2 mm. The material has high impact strength, which is compromised only at temperatures below - 20 ⁰C.
Do you want your product made in PET? Contact us and let us help you.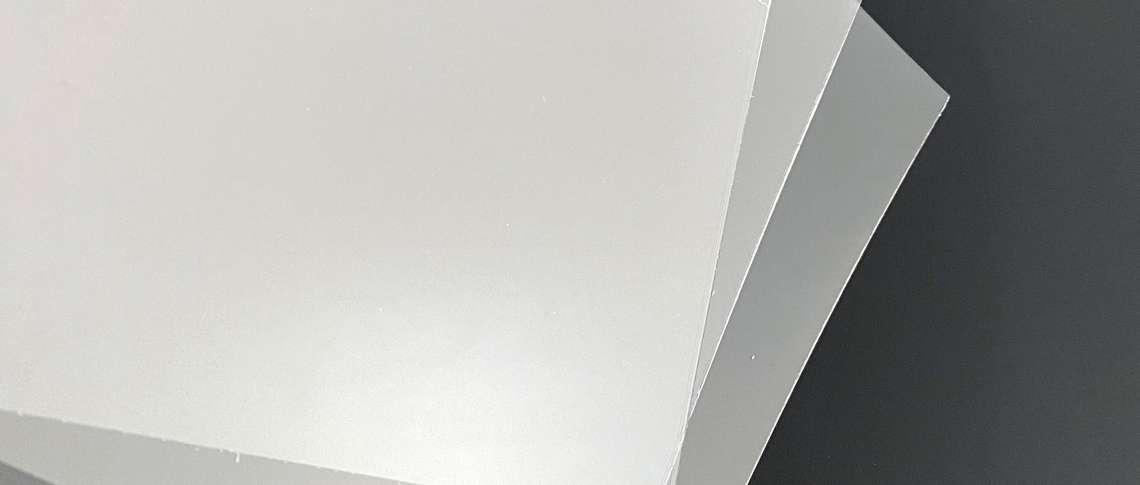 Characteristics of PET
PET has good hardness, and it is also a shock-resistant material that can be used at temperatures from - 40 ⁰C to 140 ⁰C. It is also UV-resistant and resistant to most chemical substances at room temperature. It is susceptible to notching and hydrolysis.
Read more about the characteristics of PET in this data sheet.
What can one use PET for?

PET is suited to the production of such things as:
Display stands
Protection for posters
Signs
Guards and screens
Visors.
The strength and rigidity of the material means that it can withstand intense pressure and impacts. It has good heat stability and barrier properties.

The many properties of PET mean that it can in some cases be FCM-approved for use with foodstuffs, for example in food wrappings.
PET is easy to recycle, which may be an advantage where it is made into clear plastic advertising campaign materials or visors, for example.
Want to know if PET is the right material for your product? Let us guide you.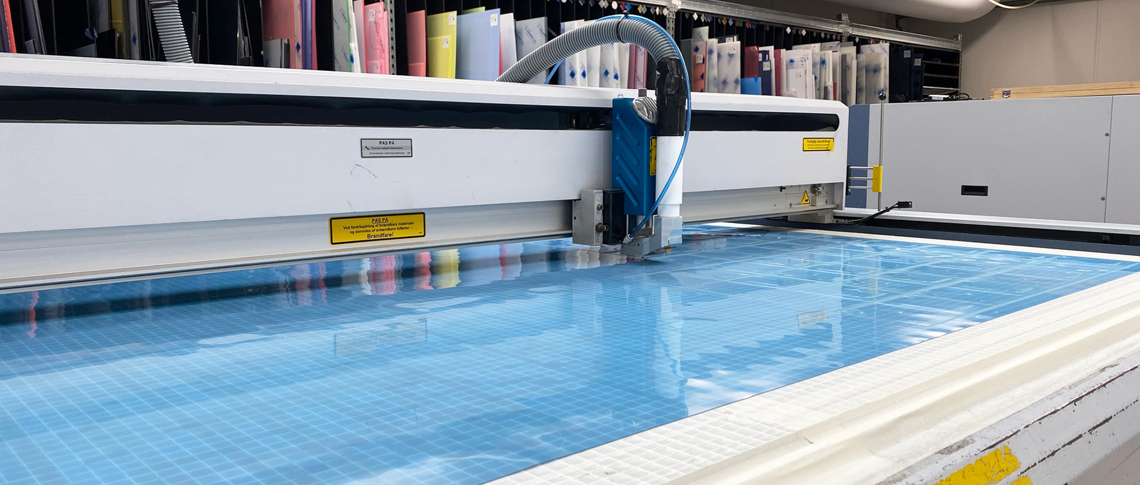 Alternatives to PET?

As a general rule of thumb, one can say that PET is cheaper than PETG, PC (polycarbonate) or acrylic (PMMA).

PETG is of the same chemical composition as PET but has added glycol, making it softer and more bendable than PET. PETG also exhibits good impact resistance and thermoforming characteristics.
In this table you will find density, light transmission and scratch resistance of the clear materials:
| | | | |
| --- | --- | --- | --- |
| Properties | Density | Light transmission | Scratch resistance |
| PMMA Extruded | 1.19 g/cm3 | 92 % | Good |
| PMMA Cast | 1.19 g/cm3 | 92 % | Very good |
| PC UV | 1.2 g/cm3 | 87 - 91 % | Good |
| PETG | 1.27 g/cm3 | 88 % | OK |
| PET | 1.34 g/cm3 | 89 % | OK |
PET from Induflex

We always carry PET in our warehouse in the form of sheets of various thickness. See the current stock and dimensions in our product range.

We can cut your products from PET by laser or blade within five days.
Would you like to know more?

Are you interested in hearing more about PET and its many uses? Or do you have specific requirements for a particular solution?

You are most welcome to contact us. We will be happy to advise you on the choice of materials.