Processing of plastics
With over 30 years' experience, Induflex is a specialist in processing plastics. We process plastic for a wide variety of sectors – in innumerable ways. The correct processing method is vital for the product you require.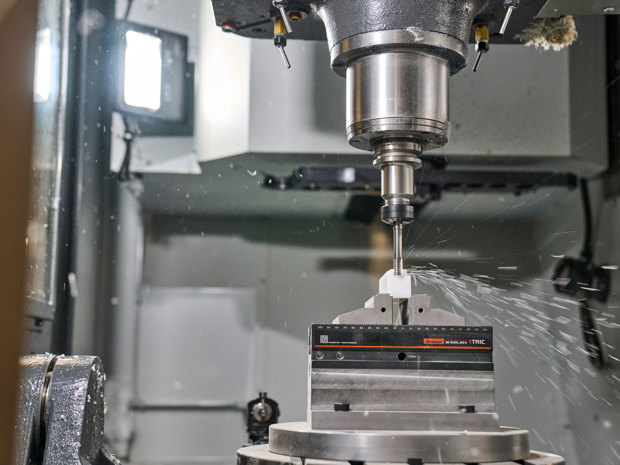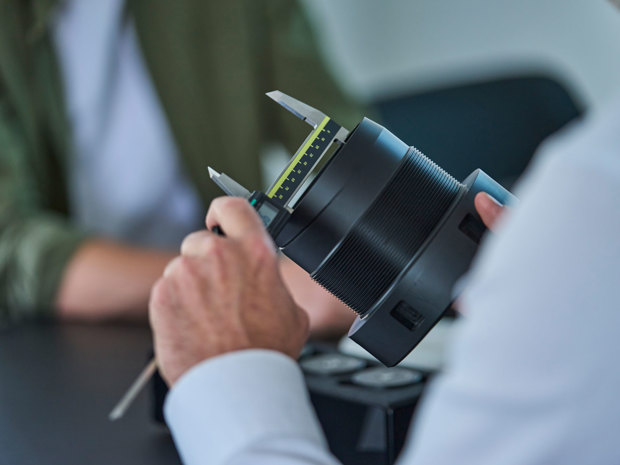 What is plastics processing?
Processing methods for plastic vary. They include working with lasers, waterjet cutting, cutting with a blade, printing, engraving, milling, turning and processing methods such as bending, gluing or polishing.
Read more below about the various options for processing plastic sheets and rods, or find more in-depth information on the specific processing methods by clicking on the links in the text.

You can also watch a video that shows the most common methods of plastics processing.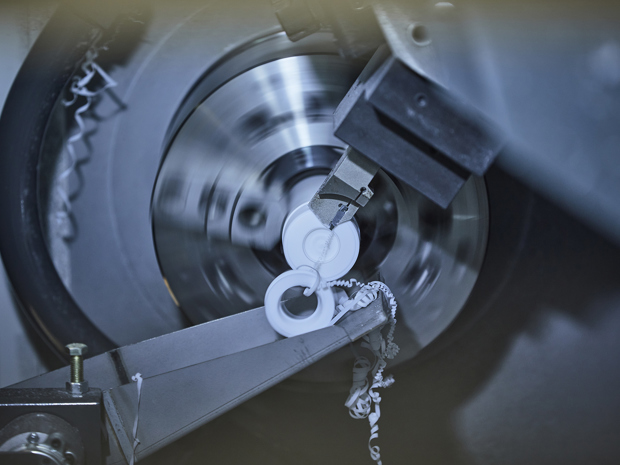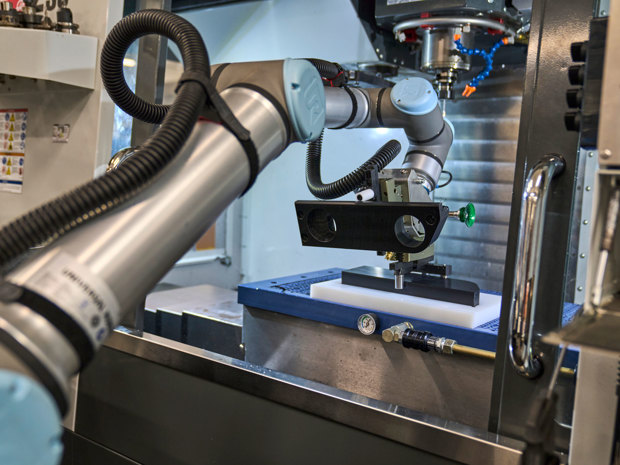 CNC machine processing
In CNC machine processing, a computer-controlled machine and cutting tool removes material from the plastic, typically a rod or sheet. In removing material, the machine shapes the item into a particular form.
CNC machine processing is often used to make industrial products such as machine parts from technical and high performance plastic.
Machine processing of plastics covers for example 3-axis and 5-axis milling, as well as turning.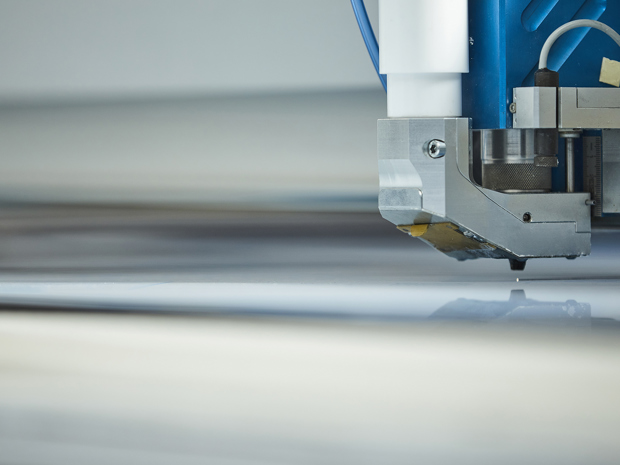 Cutting plastic with a blade
Plastic can be cut by a variety of machines, depending on the desired format, materials and area of use. In general, plastic can be cut by a laser beam, water jet or blade.
Laser-cutting is a thermal cutting process. The laser burns through the material with impressive precision and a high quality of cut. A laser-cut product always delivers precise and uniform results.
Water-jet cutting uses a so-called cold cut. The water-jet cuts the plastic without heat. The method is therefore ideal for cutting several layers of material, or materials that do not withstand heat. Furthermore, it is possible to cut using extremely high pressure of several thousand bars, and thus cut materials that blades or lasers cannot penetrate.
Cutting with a blade or milling on a cutting plotter is a quick and effective way of cutting objects of various kinds. A plotter allows cutting of, for example, acrylic, polycarbonate and PET.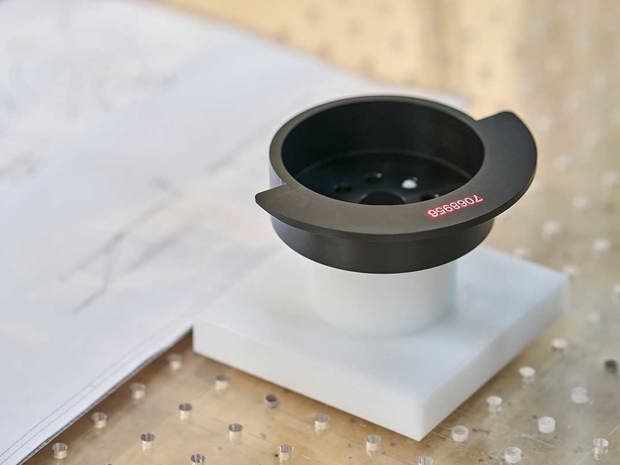 Laser-engraving and digital printing on plastic
Through digital printing and engraving, you can achieve a unique statement and a permanent stamp on your plastic product.
The digital process involves an input that is sent to the printer, which initiates printing. At the same time, colour can be imprinted on the material. You can achieve precise results on various plastics, such as acrylic, polypropylene and polycarbonate and, since the process is digital and does not require preparation of films or printing plates, the start-up costs are low – even where just a few items are needed.
With laser-engraving, part of the surface is removed, creating the desired motif in the material. Laser-engraving is permanent: it can be removed only by abrasion or eventually, through wear. This type of treatment is hygienic and does not affect the food-approved status of a part. Like printing, start-up costs are low.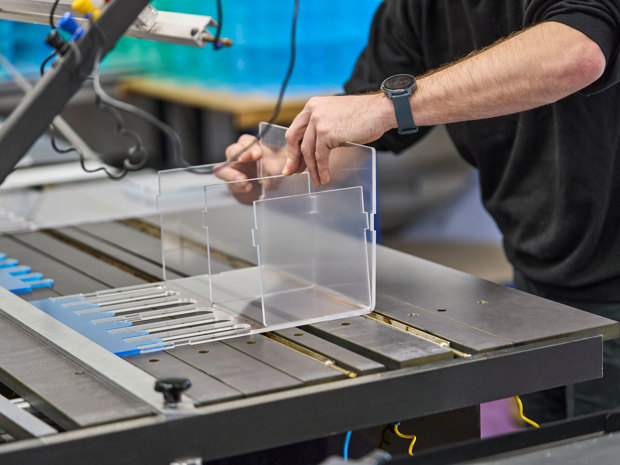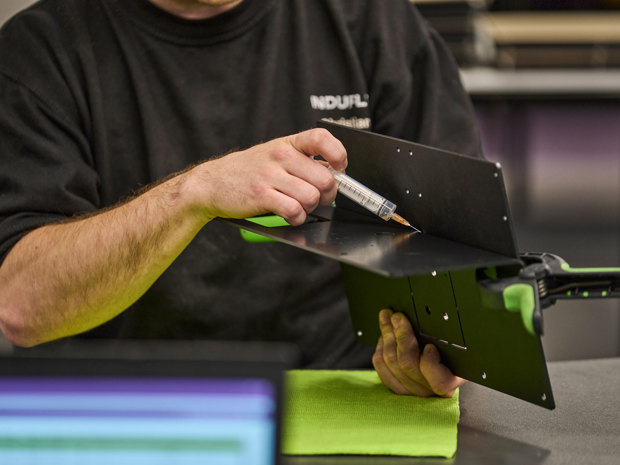 Manual processing of plastics
Plastic can also be processed by hand. Processing methods include bending, glueing and polishing.
Bending is a processing method that aims to permanently change the shape of plastic. The bending process can be carried out either by hot or cold bending; the choice of method depends mainly on the material, the end use and the aimed-for quality.
Glueing plastic requires a variety of adhesives. With the right adhesive, gluing can produce and almost invisible join.
Acrylic plastic is especially suited to polishing. It is possible to achieve an almost looking-glass, mirrored surface. There are many different ways of polishing plastic. Diamond-edge polishing is suited to even sheet-edges, flame polishing to small, hard-to-reach surfaces, and manual polishing to large, easily accessible surfaces. Naturally, the shape of the part is important for the choice of polishing method.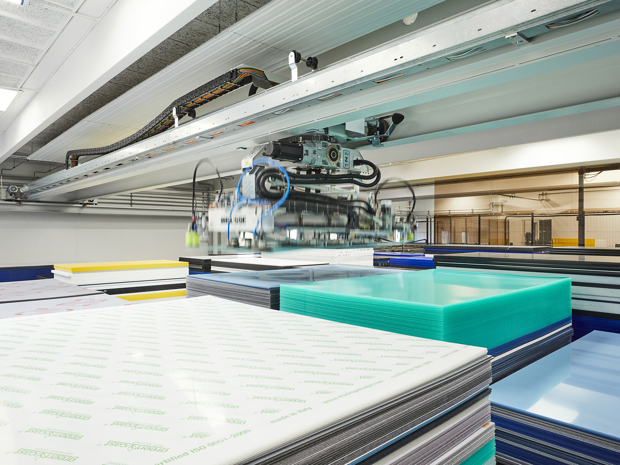 Processing of many plastics
It is almost impossible to explain the ways plastics can be processed without discussing the various types of plastic. No two plastics are alike. Each type of plastic has its own characteristics, which in turn place demands on processing methods; the required form and function of the end product dictate further needs. Processing is therefore of immense importance for the final part, affecting everything from its appearance to the method of construction.
We work with leading European suppliers of materials and are able to quickly create prototypes and deliver finished solutions to you.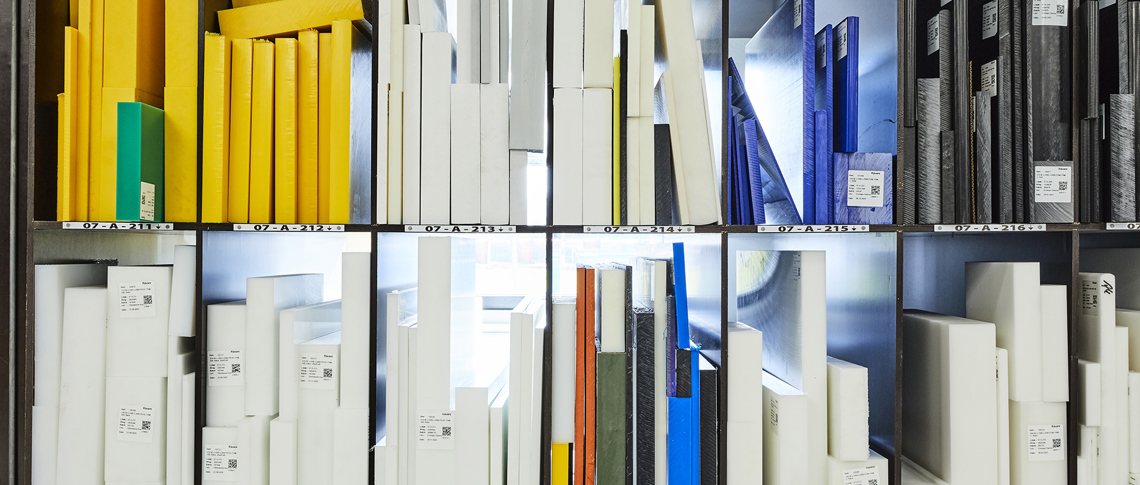 Plastics processing standards
Standards are guidelines that are there to ensure quality, safety and compatibility. They function as a common language between companies, consumers, etc. and aim to ensure that the expectations of buyer and seller coincide.
The most common standards for plastics are RoHS2, REACH and UL 94.
RoHS2 governs restrictions on the use of hazardous substances in electrical and electronic equipment.
REACH is an EU chemicals regulation that ensures the responsible use of substances, thus protecting human health and the environment. ECHA, the EU's Chemicals Agency, receive registrations and assesses whether they are in accordance with the relevant law.
The UL94 standard is a classification for flame-resistance plastics. The standard classifies materials into six groups, according to flammability.
Beyond this, there are a number of standards within various industries, including:
EMC (electromagnetic compatibility)
Automotive components
ESD (Electrostatic discharge protection)
MT (Medico-technical)
Induflex complies with all the above standards.
We process and distribute food-approved materials and are therefore registered with and monitored by the Danish Veterinary and Food Administration, where we have been awarded an 'elite-smiley' in food contact materials (FCMs).

See our latest inspection reports here.
All relevant documentation on materials under the EU Directive EU10/2011 can be found within our range of plastics. This includes information relevant to your requirements on the use of the material and its capabilities, complete traceability and relevant migration tests.
Versatile plastics processing
At Induflex, it is our aim to be the total supplier that converts your visions into reality. To this end, we have invested in versatile state-of-the-art production facilities dedicated to the processing of plastics.
Among other records, we have Northern Europe's largest capacity for laser-cutting plastic. We have, moreover, considerable experience with cutting plotters, laser-engraving, CNC milling and turning, water-jet cutting, heat-bending, digital printing, gluing and polishing plastics.
When you decide on an Induflex-made product, we are almost always able to fulfil your wishes in respect of function and finish.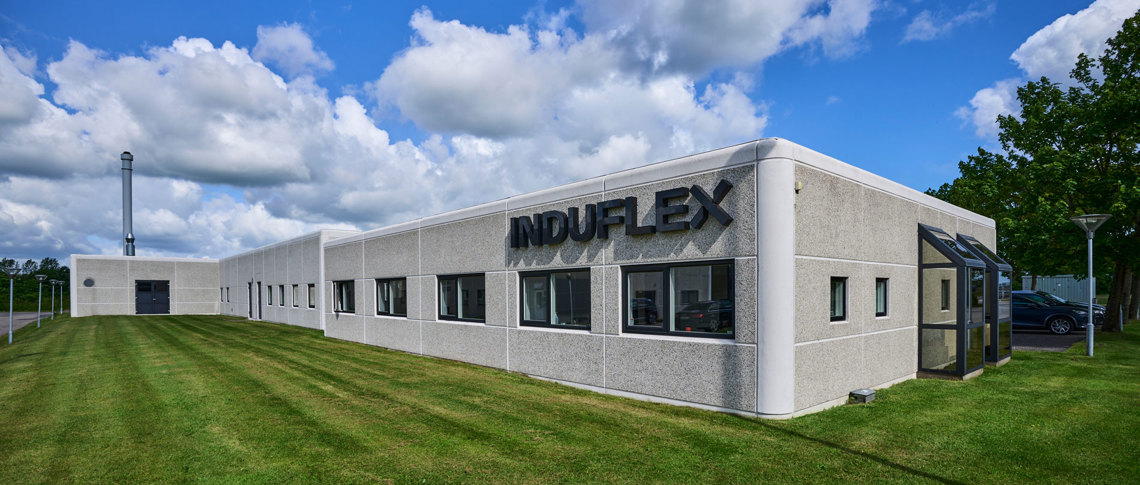 Visit our facilities in Støvring to learn more about plastic processing
Would you like to know more about plastics processing and how your product can be manufactured?
Plastics are our passion! Our specialist workers can guide you.

You are always welcome to contact one of our employees or visit us in Støvring for inspiration. We can show you various solutions and demonstrate the various processing and construction possibilities.