Polyamide (PA)
With its durability, polyamide is well suited to wear parts that have to withstand heavy mechanical stress.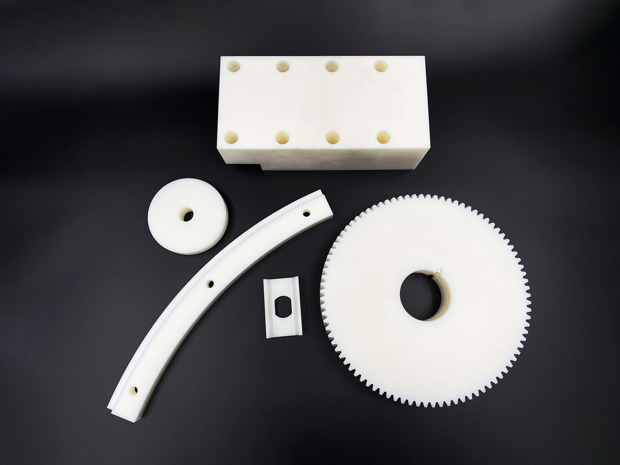 What is polyamide?

PA, short for polyamide, also goes by the trade name of nylon.

Polyamide is a food-approved thermoplastic, which is typically used in machine parts and products such as:
Sleeves
Bearings
Blade steering and other wear parts
Wheels
... and many other machine parts
At Induflex we work with nylon (polyamide) as a construction plastic, but nylon is also known as a textile, which is used in:
Parachutes
Nylon stockings
Sports equipment 
Tents
Rope
Fishing line
Several companies produce polyamide, and the material is known under several brand names such as TECAMID®, Nylantron® og Ertalon®.
The characteristics and advantages of polyamide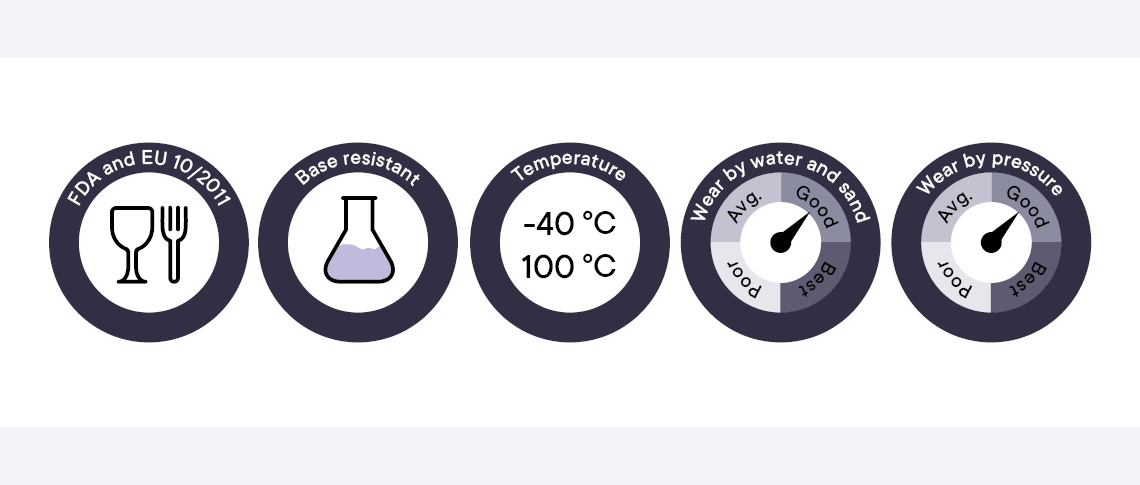 Polyamide can withstand heavy impacts and has good wear resistance and mechanical strength. It is also highly resistant to chemicals.

Polyamide is therefore used in heavy mechanical processes where mechanical strength is paramount and where there is intense wear from sand or pressure, for instance.

However, polyamide absorbs water easily, so tolerance requirements must be considered.

Polyamide is supplied in sheets, rods and tube blanks in a natural colour. Other types of polyamide exist, namely PA 6.6 and PA 12.
PA 6.6

PA 6.6 is very rigid and hard and has good impact resistance and dimensional stability when subjected to heat.

However, it tends to absorb more moisture than PA 6.

PA 6.6 is supplied in sheets and rods in natural, blue and black colours.
PA 12

PA 12, like PA 6 and PA 6.6, has good impact resistance. The outstanding properties of PA 12 are its good sliding and friction qualities and wear resistance.

It has high rigidity, good chemical resistance and the lowest water absorption and melting point of all the polyamides. It also has a low density.

PA 12 is supplied in a natural colour. 
Food-approved polyamide

If you order PA 6 polyamide products or blanks from Induflex, the standard material is FCM (Food Contact Material).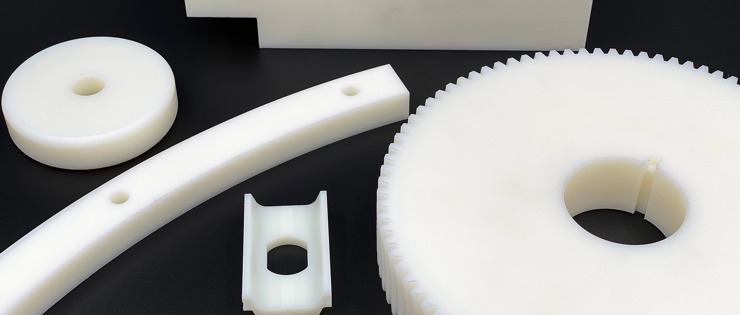 Polyamide, also known as nylon, is very well suited for milled and turned parts.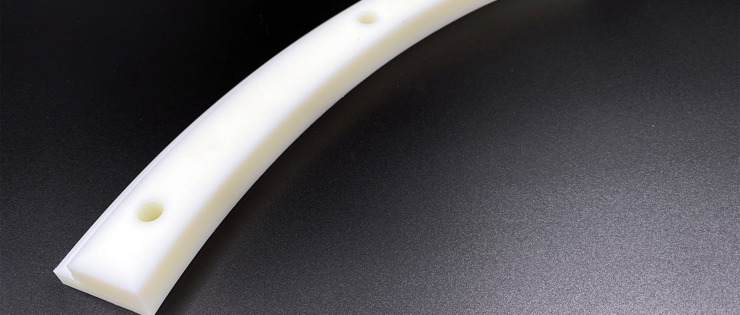 Nylon is suitable for flanges. This flange is made from white nylon.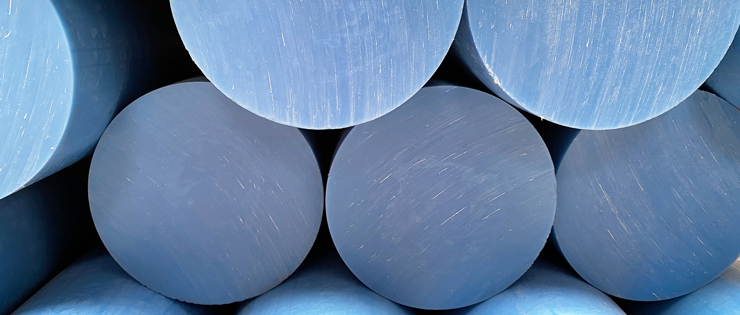 Nylon is also available in blue.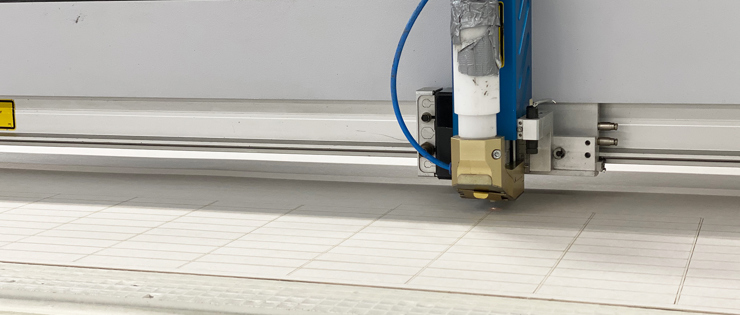 We also cut nylon with laser.
What shapes and dimensions does polyamide come in?

As mentioned polyamide is available in sheets, rods and tubes. We have the following in stock and ready for production.
Sheets, PA 6 extruded and cast, 2000 x 1000 mm
Nature: from 0,5, 1, 2 and 3 mm up to 130 mm in thickness
Black MOS 2: from 1, 2 and 3 mm up to 130 mm in thickness

Rods
PA 6 extruded or cast in nature: 6 - 800 mm in diameter
PA 6 extruded or cast in black MOS 2: 10 - 800 mm in diameter
PA 6.6 extruded in black MOS 2: 10 - 100 mm in diameter
PA 6.6 extruded in nature: 4 - 200 mm in diameter

Hollow bars, PA 6 in nature, mm in diameter
| | |
| --- | --- |
| Extruded | Cast |
| 45/25 | 90/50 |
| 50/25 | 100/50 |
| 56/30 | 120/50 |
| 60/30 | 120/80 |
| 60/50 | 150/100 |
| 70/35,72 | 180/120 |
| 80/40 | 200/150 |
| 80/50 | 250/200 |
| 80/60 | 300/200 |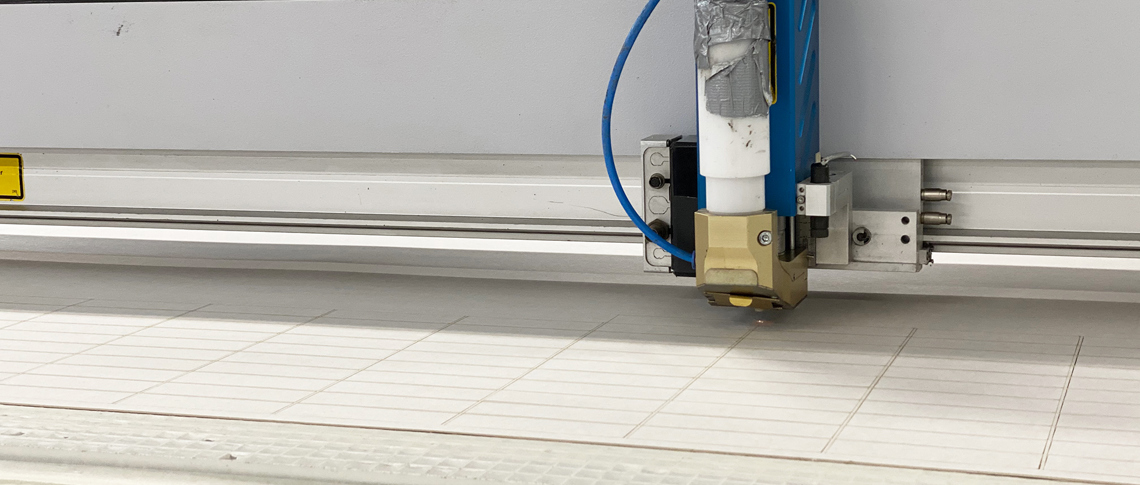 Polyamide additives

Various additives can be used to modify your polyamide depending on what you require of the product.
Adding MOS 2:
Colour: Black
Purpose: Increases rigidity, hardness and dimensional stability. Better sliding and friction qualities and wear resistance. Is more UV-resistant.
Note that the addition of MOS 2 reduces the material's impact resistance.
MO comes in sheets or rods.
Adding glass fibre:
Colour: Black
Purpose: Increases mechanical strength and service temperature and reduces water absorption.
Adding CF (carbon):
Colour: Black
Purpose: Increases rigidity, mechanical strength and crimp rigidity.
Please note that the FCM approval will not apply in the case of the above additives.

Contact us for advice or questions about additives and their effects. We will of course be happy to advise you.
Processing polyamide

We perform CNC turning and milling of your polyamide products.
Alternatives to polyamide

PEHD (polyethylene) can be an alternative to polyamide.
Get inspiration for your choice of material in our technical brochure.

You can also compare PA to other construction plastics in our table of plastics.
Want to know more about polyamide or want us to help with your choice of material? You are always welcome to contact us.