Polycarbonate (PC)
Are you looking for a shock-resistant material? It could be that polycarbonate is your answer. We have more than 30 years' of experience in producing customer specific products in polycarbonate, and we can also produce your product.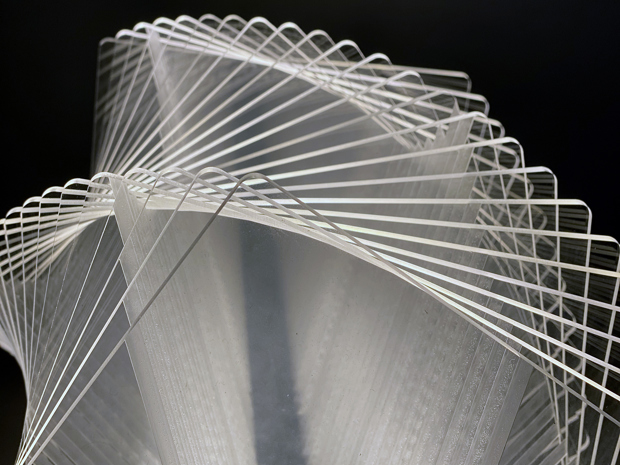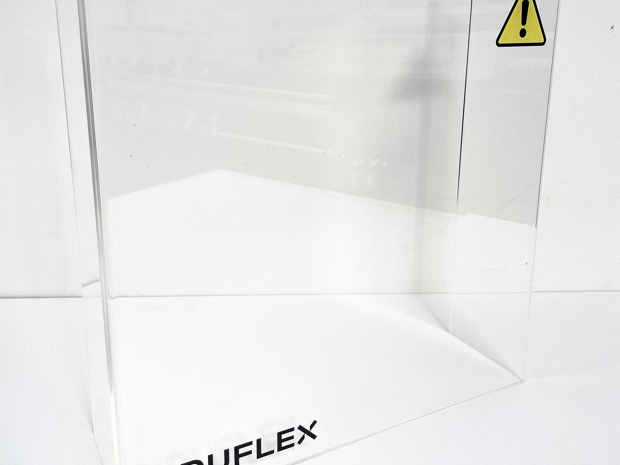 What is polycarbonate?
Polycarbonate (abbreviated to PC) can be plastic in transparent or coloured versions, with UV-resistant and fire-retardant variants. Polycarbonate can also be supplied in bespoke colours.
Polycarbonate is an amorphous type of plastic with good mechanical and optical characteristics. It is very tough and can be used both indoors and out.
Several companies produce polycarbonate, and the material is known under several brand names such as LEXAN™, Makrolon® and TECANAT®.
In what shapes and dimensions can polycarbonate be supplied?
Polycarbonate can be supplied in sheets or rods of various dimensions – see more in our product range.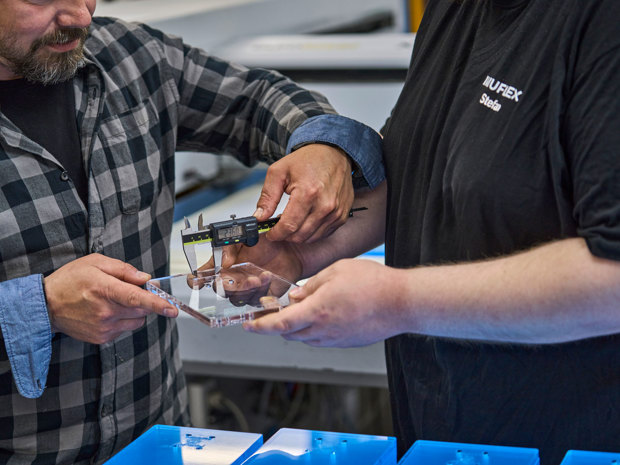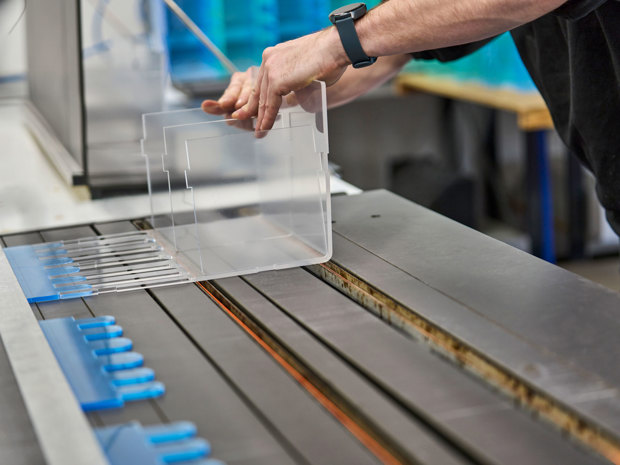 The characteristics and advantages of polycarbonate
Polycarbonate shares many properties with acrylic, but is stronger and can be used in a wider range of temperatures. Polycarbonate retains its properties at temperatures of up to 120 °C.
Polycarbonate tolerates temperatures right down to - 30 °C. However it depends on, where the material is being used and in what environment. Below this temperature the mechanical properties will decrease, and the material becomes brittle. 
The light transmission of polycarbonate is almost on a par with acrylic.
| | |
| --- | --- |
| Material | Maximum light transmission |
| Acrylic | 92 % |
| PC | 87 - 91 % |
| PETG | 88 % |
| PET | 89 % |
It is possible to have polycarbonate with an anti-scratch surface, with UV coating or with added fire retardant.
UV-coated polycarbonate
If you purchase polycarbonate sheets or products from Induflex, you can be certain that they are always UV-coated. The UV coating ensures that the product performs well, both outdoors and indoors. You need not worry about durability, whatever the situation.
Read more about the characteristics of polycarbonate in this data sheet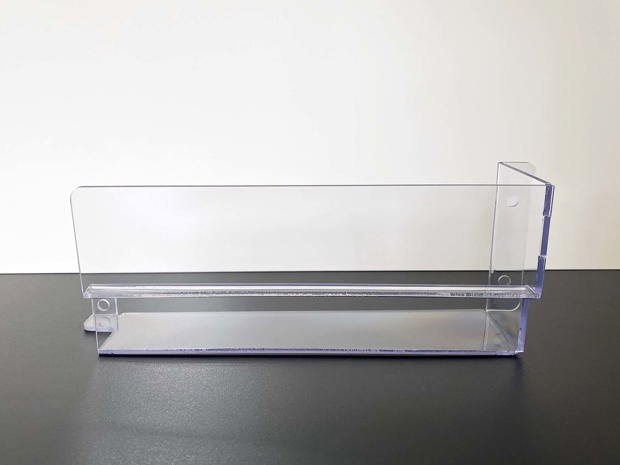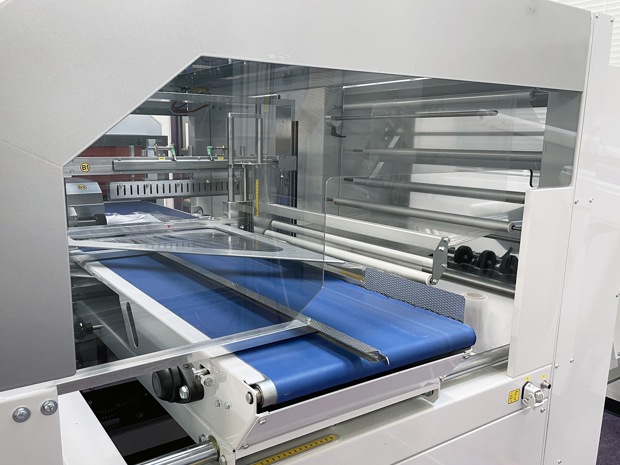 What can one use polycarbonate for?
Since polycarbonate is extremely strong and shock-resistant, whilst also providing high light transmission, it can be used in a wide range of applications.
It can be used for instance in:
Displays
Display cabinets and display furniture
Cast forms
Walls
Panels
Roof constructions
Sneeze screens
Protective screens
Inspection windows
Security screens, such as in front of machinery.
Do you want to know if polycarbonate is the right material for your product? Contact us for guidance.
Alternatives to polycarbonate
Acrylic: Although polycarbonate can be supplied in various colours, there are more colour options with acrylic. We therefore recommend acrylic as an alternative to polycarbonate for in-store and POS materials or other visual products where design and appearance are of utmost importance.
Read more about acrylic and see a selection of colours here.
PETG: PETG is more easily vacuum-formed than polycarbonate and has moreover good chemical resistance, particularly against spirits.
PVC: PVC has a higher chemical resistance than polycarbonate but is not as impact-resistant, either in cold or warm temperatures, as polycarbonate. PVC can be used at - 10 to 60 °C, whereas polycarbonate withstands - 40 to 120 ° C.
In this table you will find density, light transmission and scratch resistance of the clear materials:
| | | | |
| --- | --- | --- | --- |
| Properties | Density | Light transmission | Scratch resistance |
| PMMA Extruded | 1.19 g/cm3 | 92 % | Good |
| PMMA Cast | 1.19 g/cm3 | 92 % | Very good |
| PC UV | 1.2 g/cm3 | 87 - 91 % | Good |
| PETG | 1.27 g/cm3 | 88 % | OK |
| PET | 1.34 g/cm3 | 89 % | OK |
Polycarbonate from Induflex
We stock polycarbonate in our warehouse for prompt delivery. We have several sizes and thicknesses and can process parts cut from sheets of any size within five working days.
See the current stock and dimensions in our product range.
Would you like to know more?
Are you interested in hearing more about polycarbonate and its many uses? Or do you have specific requirements for a particular solution?
You are most welcome to contact us. We will be happy to advise you on the choice of materials.
Facts about polycarbonate
Can polycarbonate be laser cut?
We do not recommend laser cutting of polycarbonate, since it can burn. Instead, we can cut your components in polycarbonate on our cutting plotter according to your specifications and measurements.
Please notice that a laser cut edge is clear and an edge cut on the cutting plotter is matt. Except from that cutting with laser or on a cutting plotter is very similar and both cutting methods are very exact.  
What materials can you engrave on?
The melting point of polycarbonate is app. 160 °C.
Polycarbonate can be used at temperatures from up to 120 °C and down to – 30 °C.
Is polycarbonate food-approved?
Polycarbonate is not FCM-approved.
If you need a transparent plastic that is FCM-approved, acrylic might be the right choice. Acrylic is available in a transparent version with the same high light transmission as polycarbonate. However, acrylic is not shock-resistant.
Another food-approved alternative to polycarbonate is PETG.