BoPET (Mylar®)
Do you need a material that is electrically insulating and resistant to water and damp? In that case BoPET might be your answer. We can quickly cut the foil to your measurements.
What is BoPET?
BoPET is a thin film that is made from stretched polyester (PET).
The plastic film has the chemical name of biaxially oriented polyethylene terephthalate – which gave rise to its shortened version, BoPET.
There are various manufacturers of BoPet film, which is therefore known under several brand names. Of these, we will mention FLEXPETTM, Melinex® and Hostaphan® - as well as perhaps the best-known and most-used, Mylar®.
Induflex is able to supply parts made from BoPET. We generally process BoPET of the Mylar brand.
In the video below you can see how we cut Mylar foil by specifications on one of our cutting plotters. 
BoPET's characteristics and advantages
Mylar BoPET is a transparent, matt acrylic with a high tensile strength.
Since BoPET is made of polyester, the material tolerates warmth and heat.
The thickness of Mylar foil is under a half millimetre, but its dimensional stability is good, meaning that it does not become deformed when exposed to damp or heat. BoPET is also electrically insulating.
Mylar tolerates temperatures from -70°C right up to 150°C.
The PET film has good chemical resistance as well as barrier properties that ensure that gasses and smells cannot penetrate the material.
Another advantage of BoPET is that the material is electrically insulating, despite is extreme thinness. The plastic foil can act as a layer of insulation in electronic devices. It takes up very little space but is nonetheless a good insulator.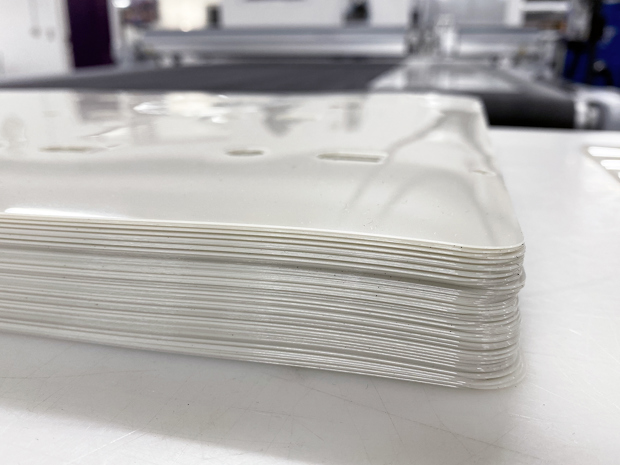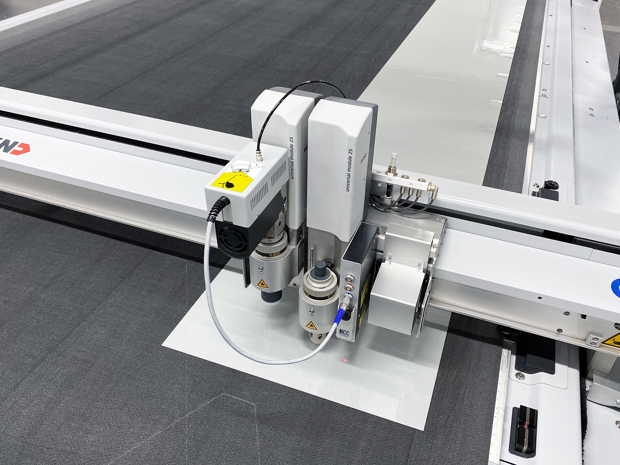 The uses of BoPET
Induflex manufactures parts in transparent BoPET. BoPET is used in industry as protection for surfaces and linings for pipes, among other things.
Mylar is not FCM food-approved and should not be in direct contact with foods.
Due to its insulating properties, Mylar is also used as insulation in electronic devices and machines.
Applications for metallised BoPET
Mylar and transparent BoPET should not be confused with the silver polyester film that is used, among other things, for packing. This type of BoPET contains metal – hence its characteristic silver colour.
It is metallised BoPET that is typically seen in the form of toffee wrappers. Metallised PET is used for all manner of food wrapping solutions, such as the tops of yoghurt cartons and foil bags containing coffee, etc.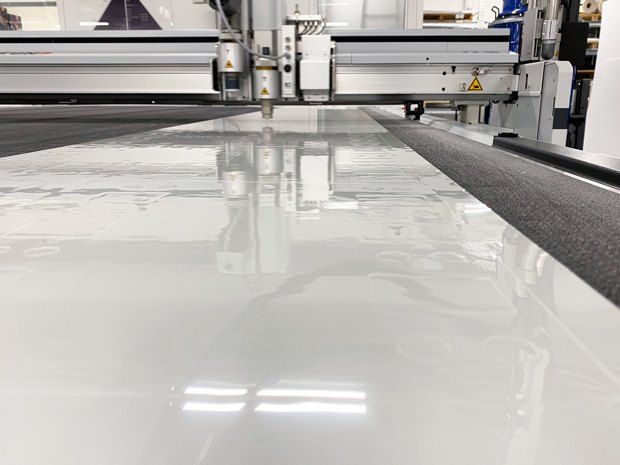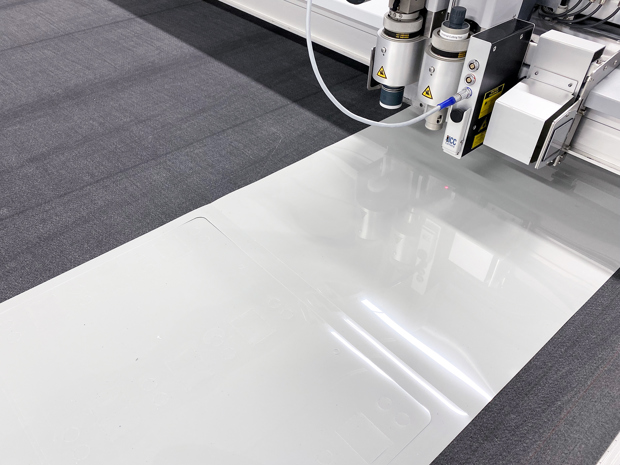 In what shapes and dimensions can BoPET be supplied?
The Mylar type BoPET is available both in sheets and rolls.
Mylar can be found in thicknesses from 0.023 mm to 0.480 mm.
At Induflex, you will find Mylar in the following thicknesses:
Mylar® thicknesses
0.023 mm
0.036 mm
0.050 mm
0.075 mm
0.100 mm
0.125 mm
0.190 mm
0.250 mm
0.300 mm
0.350 mm
0.480 mm
Please note that we do not stock all sizes.
The delivery time on Mylar, which is not in stock, is 3 to 4 weeks and there is a minimum order quantity.
Processing BoPET
At Induflex, we cut Mylar items with a cutting plotter.
We cut precisely to your measurements and specifications, so the pieces are ready for your production line. We can cut all shapes and make cut-outs where needed.
We can also shape it for simple and easy bending or folding. We use heat-bending for this purpose.
Fast delivery of your Mylar items
If we have the material in stock, we can cut and dispatch your items within five working days.
Would you like to know more about Mylar?
Are you interested in learning more about Mylar and the uses of the material? Or do you have specific requirements for a particular solution?
Please contact us – we will be happy to help.