Acrylic (PMMA)
Are you on the look-out for a material for your next design? It could be that acrylic is your answer.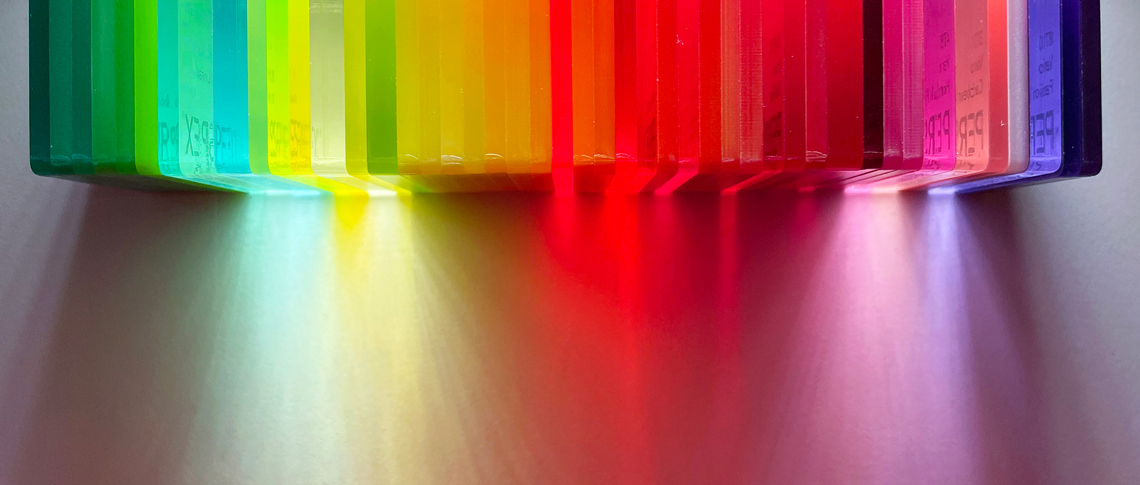 What is acrylic?

Acrylic or PMMA (Polymethyl methacrylate), as it is also known, is a transparent or coloured plastic, which comes in several variants.

Acrylic is an amorphous type of plastic with good optical characteristics. Acrylic can be purchased in an extraordinary range of colours and can also be made in specific colours to order. We always carry 80 different colours in our warehouse as sheets of varying thickness.

Acrylic can be supplied with a number of surface finishes, such as frosted, matt, shiny or mirrored.
See our standard range of coloured acrylic.

It is visually very versatile and can be used both indoors and out.

Several companies produce PMMA, and the materiale is known under several brand names such as PLEXIGLAS®, PERSPEX®, Policril®, Satinglas®, Setacryl®, Oroglas®, ALTUGLAS™ and GreenCast®.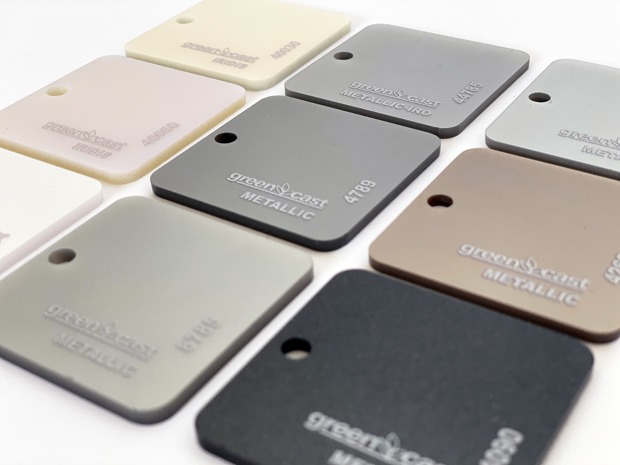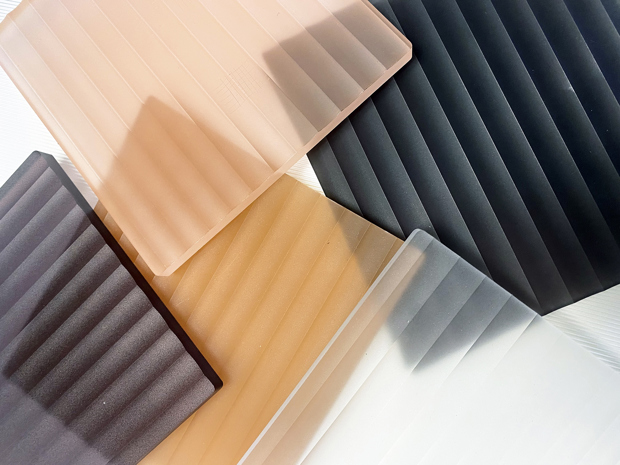 In what shapes and dimensions can acrylic be supplied?

Acrylic can be supplied in sheets of various dimensions and thicknesses – for details, please see our product range.

We sell and process extruded and cast acrylic in almost any imaginable colour. We also offer the recyclable acrylic GreenCast®.
Processing acrylic

The most common methods of processing acrylic are cutting by laser or cutting plotter, CNC milling and turning, cold and heat bending and thermoforming. Acrylic can also be glued and polished.

We offer engraving and digital printing of acrylic, which extends the range of design possibilities. Printing allows for a tailor-made product which is immediately eye-catching.

Find examples of printed acrylic in our in-store brochure.

If you place an order for cutting of acrylic sheet with Induflex, we can have your product ready for delivery within five working days.
Temperature thresholds

Acrylic can be used at temperatures from minus 40 °C to 80 °C. If it is exposed to higher temperatures for a period of time, it will soften.
Light transmission

Acrylic transmits light easily compared with other similar materials.
| | |
| --- | --- |
| Material | Maximum light transmission |
| Acrylic | 92 % |
| PC | 87 - 91 % |
| PETG | 88 % |
| PET | 89 % |
You can learn more about the properties of acrylic in this data sheet. 
What are the uses of acrylic?

In view of the many attractions in terms of colour and structure as well as processing possibilities, acrylic is suited to all manner of products where visual impact is a priority.

For instance, acrylic can be used as partitions, for exhibiting goods, in display cases, signs and other display materials for shops as well as in decorative items.
Find examples of acrylic for shop arrangements in this brochure.

Acrylic is FCM-approved, meaning that it is suitable for food uses including the storage of food.

Acrylic has a higher light transmission than glass and represents an alternative to glass in many products and industries. Acrylic is however less scratch-resistant than glass, so products that are made for sliding, such as car windows, are best made from glass.

Acrylic is a common component of electronic equipment, Hi-Fi modules and lighting, such as lampshades. Here, its weight and visual appeal, coupled with light transmission, are all plus points in comparison to metal, for instance.

Our customers in the audio and lighting sectors often use cut acrylic in their products.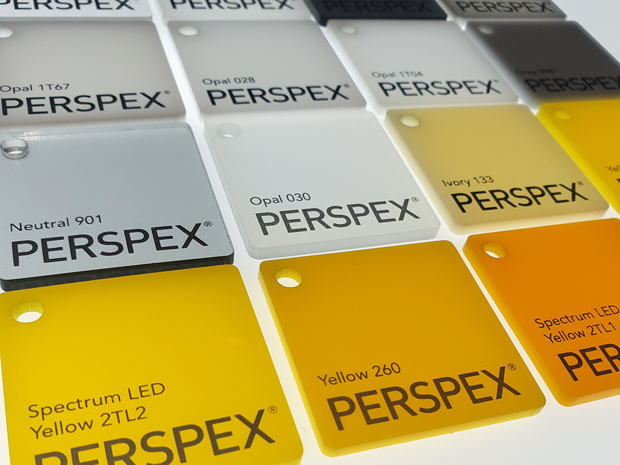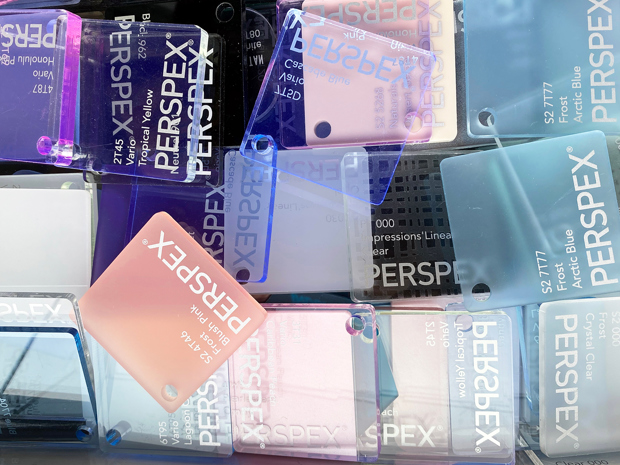 Alternatives to acrylic

Where visual impression is concerned, acrylic is certainly a favourite. In certain circumstances, requirements of the finished product may mean that polycarbonate is preferable.

Polycarbonate is not supplied in as many colours and finishes as acrylic, but it is more shock-resistant and can cope with temperatures from - 40 to 120 ° C. In some instances, polycarbonate may be the better solution for screens.
In this table you will find density, light transmission and scratch resistance of the clear materials:
| | | | |
| --- | --- | --- | --- |
| Properties | Density | Light transmission | Scratch resistance |
| PMMA Extruded | 1.19 g/cm3 | 92 % | Good |
| PMMA Cast | 1.19 g/cm3 | 92 % | Very good |
| PC UV | 1.2 g/cm3 | 87 - 91 % | Good |
| PETG | 1.27 g/cm3 | 88 % | OK |
| PET | 1.34 g/cm3 | 89 % | OK |

We are always happy to advise you about the choice of materials.
Acrylic from Induflex

Induflex works with some of Europe's leading suppliers. As a customer of Induflex, you will always enjoy the best quality of acrylic in your products.

We keep acrylic in our warehouse for prompt delivery. We have several sizes and thicknesses and can process items cut from sheets of any size within five working days.
See our standard range of coloured acrylic

See our current stock and dimensions for extruded acrylic in our product range.

Would you like to know more?

Are you interested in hearing more about acrylic and its many uses? Or do you have specific requirements for a particular solution?
You are always welcome to contact us.
Facts about acrylic
Acrylic is best cleaned with water, washing up liquid and a clean, soft cloth. Many an acrylic product has suffered over time because it was cleaned with spirit, cleaning solvent or hard brushes. For this reason, and thanks to our many years of experience, we have developed a special product for cleaning and polishing acrylic without solvent. This can be purchased and supplied with your order.
Which chemicals does acrylic withstand?
Acrylic withstands weak acids, bases and a number of non-polar solvents. But acrylic does not cope with strong acids, bases or polar solvents such as acetone or chloroform.
Water absorption in acrylic is limited and it is relatively easy to dry. Water can still cause an acrylic sheet to warp however, if for example the sheet becomes wet on one side – in the same as wood will warp.
Structural properties of acrylic
Acrylic is frequently used in optics, where structural properties are a secondary consideration. However, for some structures it is very important that it should withstand pre-defined static and dynamic effects – examples are walkways and aquariums.
Acrylic structures are more complex than steel, for example, because time and temperatures influence its character. Acrylic is viscoelastic and steel is linear elastic-perfectly plastic. This means that the strength of acrylic will change depending on how long it must bear a load and at what temperature. It also loses strength when exposed to UV rays and especially when exposed to organic solvents. For this reason, it is essential that acrylic used in higher safety groupings is regularly inspected.
Are the dimensions of acrylic stable?
The dimensions of acrylic do not change significantly over time: this is why many measuring instruments are made from acrylic. Vigilance should however be exercised when acrylic is used in combination with other materials, since it expands with increasing temperatures.
An acrylic rod of one metre length will thus become 0.7 mm longer if the temperature rises by 10 degrees. When acrylic is subjected to pressure within a steel frame, it is highly likely that the acrylic will burst with a change of temperature.
Is acrylic liable to notching?
Like many other thermoplastics, acrylic is liable to notching. Structures must therefore be made without sharp internal corners. If a structure contains notches as well as other internal tensions, it will not take much for the acrylic to crack when being processed, transported or on first use.
Internal tension is a common factor in extruded acrylic due to the way in which the raw material is fabricated, but tension can also arise through inexpert fire polishing, laser-cutting or use of the wrong tools.

Internal tensions in acrylic can be removed through detensioning, which is a slow process of heating and cooling (annealing).
Tensions can be seen in clear acrylic, using two pieces of Polaroid filter. Place the acrylic against a source of light, lay the filters one over another and observe the acrylic though them whilst turning the filters separately. The tensions will light up.