Polyoxymethylene (POM)
The choice of POM plastic allows for the manufacture of food-approved plastic parts with fine surfaces in a variety of colours. POM is ideal for the food and medical sectors.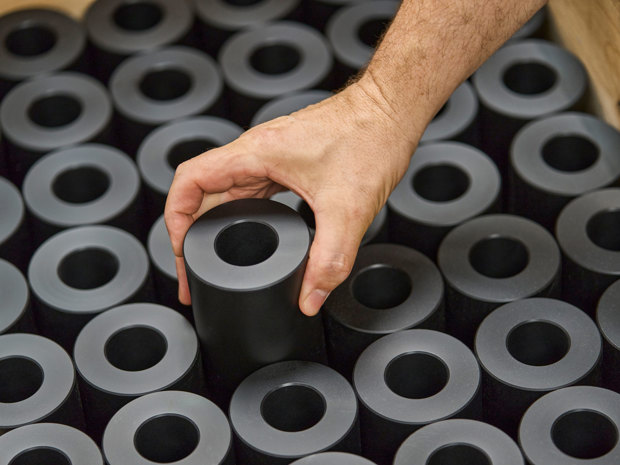 What is POM?

POM stands for polyoxymethylene. It is a food-approved, technical thermoplastic that is supplied in two versions: POM-H (homopolymer) and POM-C (copolymer). At Induflex, we work primarily with POM-C.

It is also possible to obtain POM LM, which has a special additive that enables engraving, even in white POM.

POM can be supplied in sheets and circular blanks in many sizes.

Our most commonly used material in this category is rods of Ø3 - Ø300, lengths of 1 or 3 meters, tubes in various dimensions and sheets from 1 mm - 300 mm, widths of 1220/1000/620/500 and lengths of 1000/2000/3000 mm. There are therefore excellent opportunities for creating POM parts in various sizes.

We supply as standard POM in three colours: natural/white, black and blue.
Several companies produce POM, and the material is known under several brand names such as TECAFORM® og Ertacetal®.
Applications for and properties of POM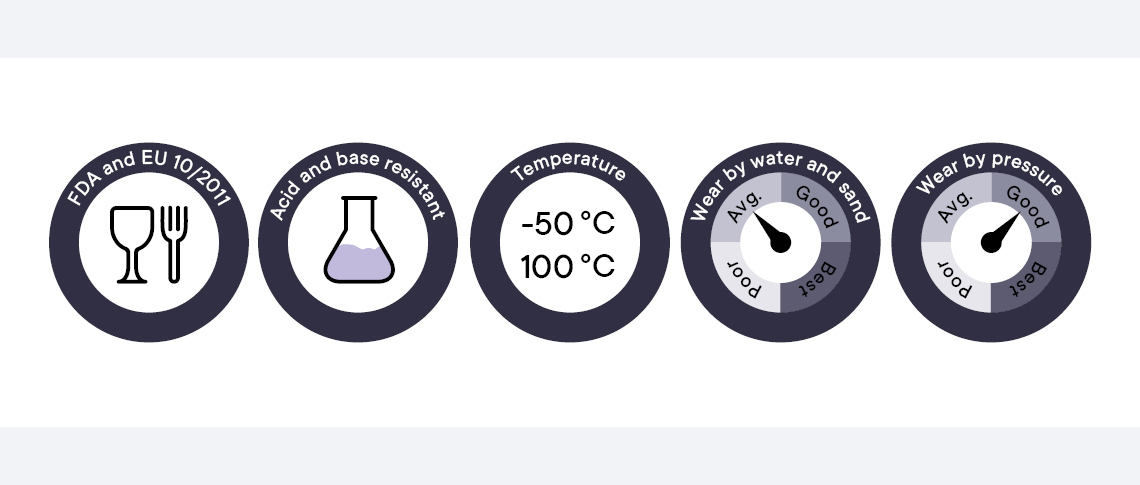 POM is ideally suited to the food processing and medical industries.

It is one of the materials that produces smooth surfaces with minimal resistance and thus low friction.

Read more about the characteristics of POM in our plastic table.

POM can be used for various mechanical parts such as:
Toothed wheels
Axes
Steering box
Bearing housing
Pusher arms
Rolls
Slide bars
Guide wheel
Pulleys
... and many more machine parts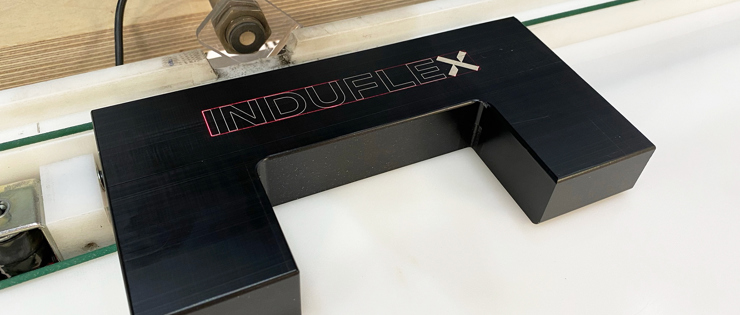 Black POM with engraving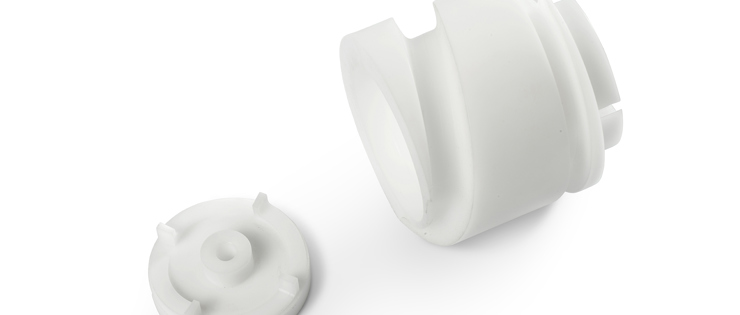 Dispensing screws in white POM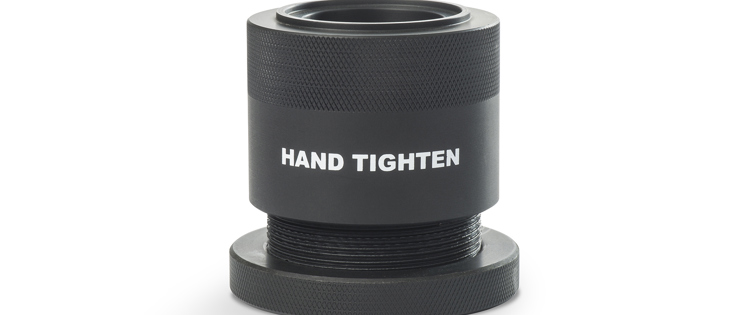 Machine part in black POM with engraving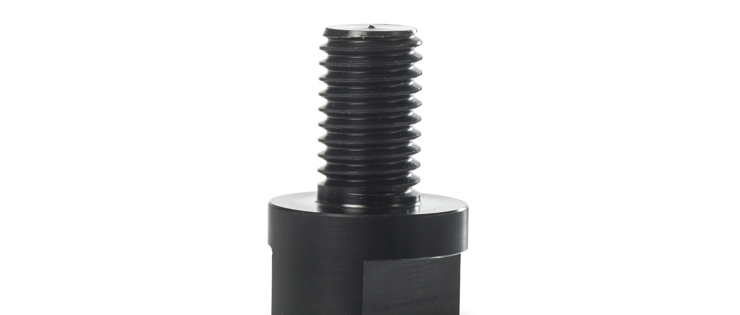 Turned machine part in black POM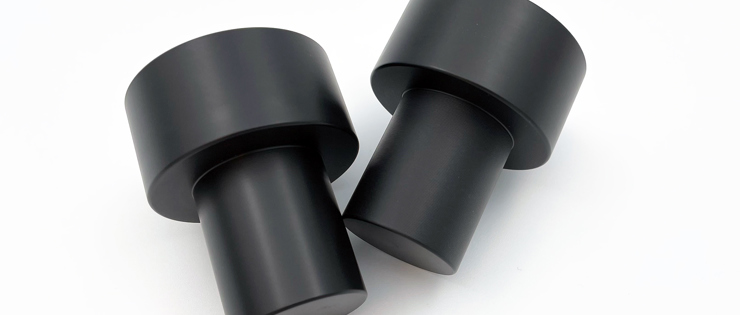 Turned machine parts in POM with two different fineness of surface (fine-grade to the left)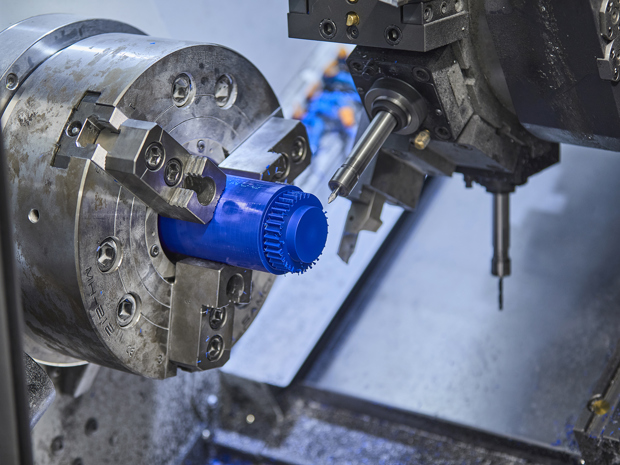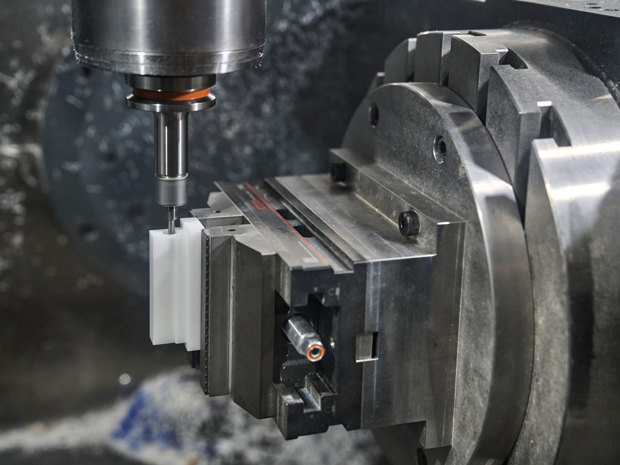 Processing POM

We can produce various shapes and parts in POM using our CNC turning and milling machines, tailored to your requirements and dimensions.
We can also YAG-engrave on POM in black and POM LM. Engraving in black POM or POM LM allows for labelling on your POM parts, without affecting the part's food-approved status or cleaning options.
In the video below you can see, how we turn machine parts in POM.
Alternatives to POM
For tasks requiring higher temperatures than 100 °C over a period of time, PTFE is the better choice. In some cases, PEHD is an alternative to POM.

POM does not have an advantage in an abrasive environment, as it may suffer damage. PEHD or PA are better alternatives in abrasive environments.
If you have any questions about the processing of POM or the choice of materials in general, please feel free to contact us.