Sign holders
Sign holders and frames are ideal in places where graphics and messages are frequently changed. They are perfect for such things as menus, seasonal campaigns or product launches. We produce custom sign holders in acrylic and other materials according to your meassurements and requirements.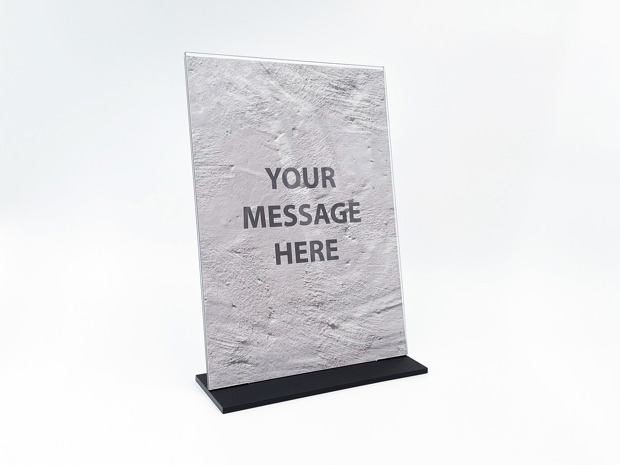 Custom sign holder according to your design
A sign holder can be many things, from a classic curved acrylic frame to a catalogue or a mobile – in fact, anything that increases awareness of your message.

Whether a stand for a paper or cardboard sheet, or an acrylic frame to hold thin paper, we can make a tailored sign holder that highlights your message.
We are experienced in making sign holders in many shapes and forms and we also guide you to the right construction.
Get inspiration for your sign holder solution in our in-store brochure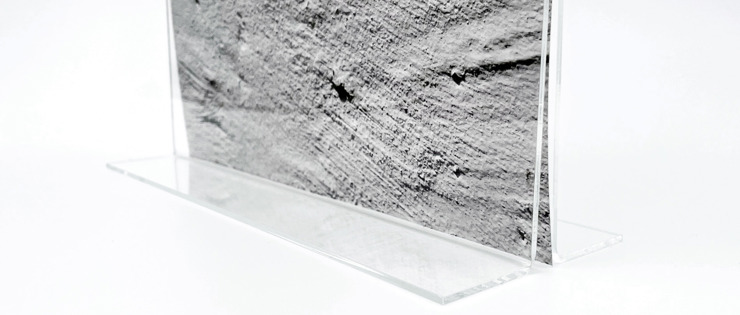 Clear acrylic frame with a bent foot.
Laser cut foot in black acrylic with a clear acrylic frame.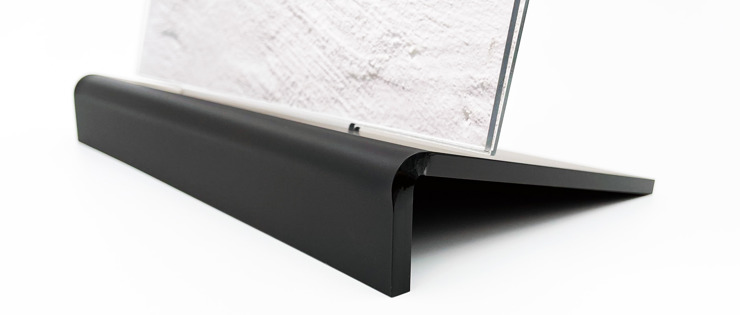 Bent foot in black acrylic with a clear acrylic frame.
Sign holders in a range of materials

There are numerous designs, using curved sheets, baseboards, feet and magnets.

Acrylic is ideal for sign-holders, as it can be laser-cut and bent to the desired shape and size. Other materials are available, from MDF to foamed PVC.

Last but not least, we can add your brand name or logo with our digital printer or film.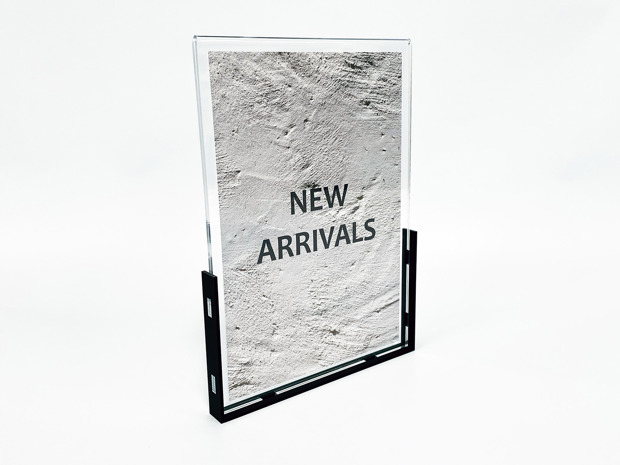 Have a sign holder made for A4, A5 or A6 sized sheets, at Induflex

At Induflex, you can be certain of getting the sign-holder you need: we will produce it to exactly the dimensions you stipulate. Our production plant allows us to complete the majority of orders.

We also make brochure-holders in a range of sizes, including:
Sign-holders for A4
Sign-holders for A5
Sign-holders for A6
We can provide a sign-holder stand that can be placed on the floor or a sign-holder that hangs from the ceiling.

If you have an idea for a particular solution, please contact us.