Acrylic jewellery
Do you dream about launching your own jewellery collection, or are you already working in the area? We can produce acrylic jewellery to your design ideas and drawings.
We make your idea a material reality
We produce acrylic jewellery and jewellery parts for many designers, both in Denmark and abroad. As a manufacturer, our starting point is always the designer's proposal.
Ideas become drawings, drawings become a computer file and the file becomes the basis for programming the laser cutter to do what it does best: cutting parts from sheets of acrylic. The part can subsequently be laser engraved or heat bent to make it uniquely your composition.
The design is entirely up to you. Production is where we come in, at which point a computer drawing is likely to be set up. We can take a drawing or sketch on paper and from it, create a computer drawing with your precise dimensions and format.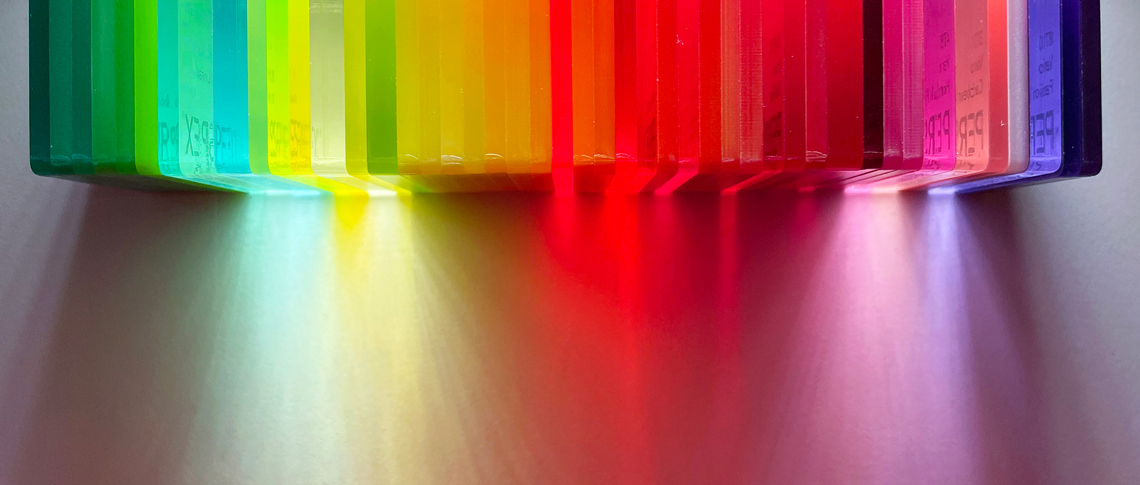 Acrylic for jewellery in a range of sizes and colours

Acrylic sheets come in the following thicknesses: 1, 1.5, 2, 3, 4, 5, 6, 8, 10, 12, 15 and 20 mm.

Generally, 3 mm acrylic is used for earrings and necklaces – and it is supplied in innumerable colours, effects and finishes.
We keep a wide range of 3 mm acrylic in our warehouse – at least 40 different colours. This means you can order a small number of pieces in your chosen colour without having to pay freight for shipping entire sheets to our production facilities from abroad.
We also have bought in acrylic as tubes and rods in various diameters, for procedures such as cutting and heat forming for use as pendants in necklaces.
Processing acrylic for jewellery
Our large in-house production plant is capable of turning out the jewellery you want, adding laser cutting, engraving, print or film and shaping to your requirements. The extreme precision of laser cutting allows us to create parts of just a few millimetres' diameter for a necklace, for instance.
Laser engraving is also appropriate for jewellery, accomplishing lovely effects on multi-coloured acrylic, mirrored acrylic and iridescent acrylic.
Thermoforming is yet another possibility for shaping, fashioning and giving perspective to jewellery.
Film and digital printing are also ways to adapt acrylic sheets, should the exact colour not be available. An adhesive film can be applied to the sheet on one or both sides.
Film gives wonderful results when laser cut, but after adding film, jewellery cannot be heat bent or thermoformed, as the film will not stretch.

Another alternative is to digitally imprint a pattern or motif directly onto the acrylic. Digital printing has the same restrictions as film: thermoforming or bending will not be possible after printing.
Want to know more about production of jewellery? You are more than welcome to contact us.