MDF panels for your creative projects
Alongside its attractive appearance and natural warmth, MDF has plenty to offer the world of design.
What is MDF?

MDF is an abbreviation for Medium Density Fibreboard, a versatile material made from tree fibres and glue or resin.

We keep various types of MDF in a range of colours, thicknesses and formats. Our range includes as standard thicknesses from 5 - 30 mm and boards measuring 1220 x 2440 mm.
Several companies produce MDF, and the material is known under several brand names such as Valchromat and Fibralux®.

MDF can be supplied in its natural colour or impregnated with dye. There are 10 Valchromat dyed colours, ranging from khaki to red and light grey.

If you have any questions about the available colours, please contact us.
Processing MDF

We can cut and machine MDF extremely precisely on our CNC machines. We can also make battening and grooves in the material so that it can be used as a base for signs, for example.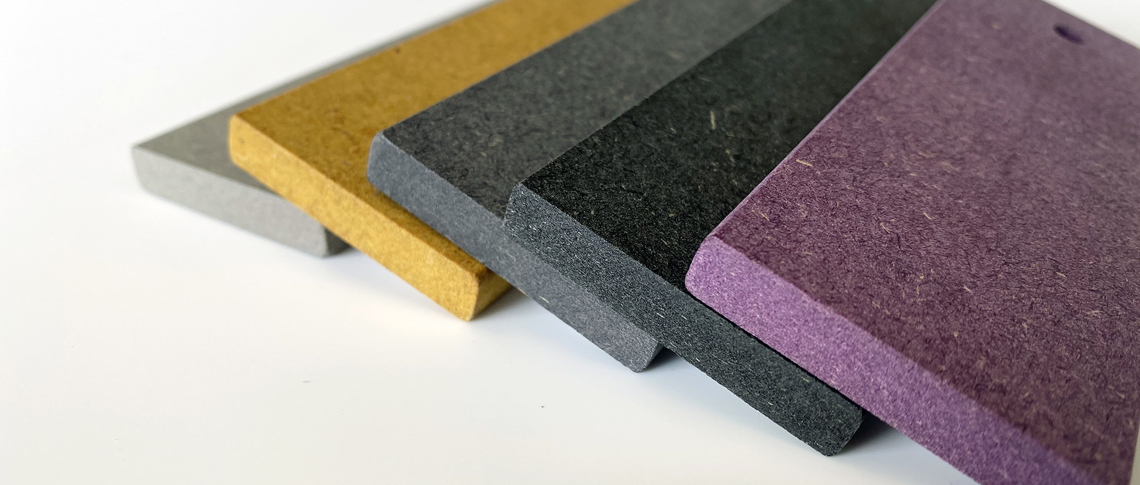 Applications for MDF

MDF is highly versatile. It can be used in large constructions or for detailed items.

MDF is strong and rigid, which makes it an ideal construction base for various laminates, film, foam or linoleum that are not rigid on their own.

MDF can also be surface-treated with paint, oil or wax to make it more resistant to dirt – this is especially relevant in view of our current health concerns concerning environments used by a lot of people.
The characteristics and advantages of MDF

MDF is a relatively cost-effective material that can be formed in many ways. Moreover, it has an attractively natural and warm appearance.

MDF is very easy to build with – but it also has its limits. For one thing, it cannot be thermally shaped, and its joins must either be glued or screwed in place.
Alternatives to MDF

There are some good alternatives to MDF, including plywood, which is more flexible than MDF, or foamed PVC, which has a lower density.

Where MDF is used in building, panels of foam board (Kapa) may also represent a good alternative.

If you have any questions about MDF or its processing, please do not hesitate to contact us.