Linoleum for your in-store projects
If you are searching for a matt-finish solution for your brand with a hint of Nordic style, linoleum is an ideal and adaptable choice of material. We can produce a wide range of products in linoleum – naturally customised to your requirements and needs.
What is linoleum?

Linoleum is a sustainable natural material. It consists of a mixture of linseed oil, resin, woodmeal and chalk, to which is a pigment is added as desired. It is then rolled into sheets.

There are many different kinds of linoleum. We generally use a linoleum called Forbo Furniture, for its appealing, smooth and matt surface. As standard, this type of linoleum is available in 21 different colours, from neutral to strong colours. Please contact us for more details of individual colours.

Linoleum can be supplied in roles of 1830 mm width and 2 mm thickness. It offers excellent opportunities for creating products of various sizes and for various applications.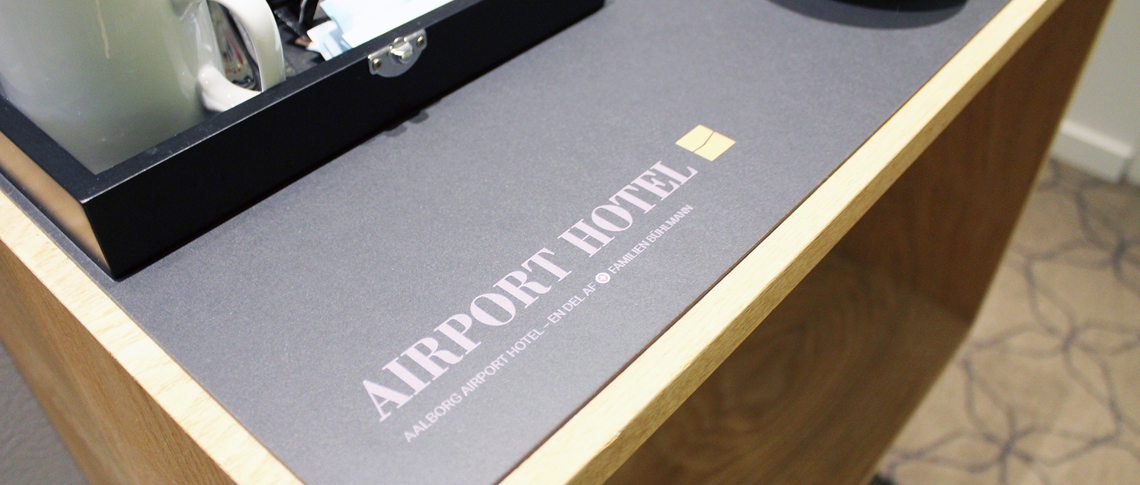 Processing linoleum

Linoleum is a flexible material that can be mounted on smooth, curved or organic surfaces. We use a blade to cut the material, which provides a sharp edge. There are many possibilities for cutting the exact shapes required for your project.

Linoleum is not inherently stable, and it is thus important that it is mounted on a stiff backing. Such backings include acrylic, MDF or foam board (Kapa).

The surface of the linoleum can be digitally printed or engraved with a pattern, logo or graphic. This is a simple way to customise your product with a design or logo of your choice.
Get inspiration for materials, design and colours in our in-store brochure.
Linoleum products

Linoleum is frequently used in furniture, e.g., for table tops.

Induflex can manufacture a wide range of products, from table mats and covers to displays and coverings for podiums in linoleum.
The characteristics and advantages of linoleum

Linoleum has several unique benefits. It is a durable material that is easy to maintain. Linoleum resists dirt and sticky fingers – a perfect quality in products that see plenty of use.

Moreover, this material is unique in its aesthetic appeal. Its soft, matt and organic surface is pleasant to the touch. All in all, it is a great material to deploy in situations where a warm, Nordic look is the aim.

Linoleum belongs to the category of sustainable materials, due to its natural origins and amazingly long service life.
Alternatives to linoleum

Certain materials possess similar traits to linoleum: felt, textile, cork and other soft materials among them. But there is no directly comparable material with exactly the same properties and visual look.

Are you working on a project that lends itself to linoleum, or would you like to hear more about the options offered by this material?

We are ready to help.