Print on plastics and other materials
The simple addition of printed words or a logo on your product provides a distinguishing feature. Print is perfect for signalling your communication with the world. Our printers can reproduce high-quality images, illustrations and text.
We print your message
Do you have a sign, a sample or another item you want to have print on? We offer printing on a wide range of different materials such as acrylic, linoleum or Dibond.
We print with UV-resistant colours and for all manner of uses. Any colour imaginable can be printed: all we need is a file from you.
We can print a single example or large quantities – even at short notice.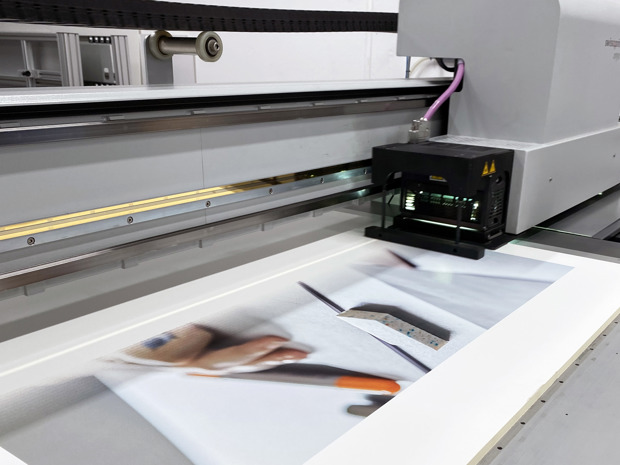 Print on a wide range of products and materials
We can print large-format on several surfaces, from acrylic to polycarbonate; also, on various light-weight sheets or natural materials such as veneer or linoleum.
With digital printing, it is both easy and financially affordable to use your images for campaigns and small series.

It need not be only images or text: nuanced colours can also convey an exclusive impression. And we are of course able to print exactly the colour you want.
Digitalprint med drops in multiple layers creating a 3D-effect.
Printet laquer on a frosted piece of acrylic.
Digitalprint on a transparent piece of acrylic.
Multiple layers of print creates a structured surface.
Printing white colour under the picture emphasises the green colour.
Effects with digital printing
Besides the reproduction of specific colours and forms you can also achieve a 3D effect on your products with print. The 3D effect occurs when there are printed multiple layers on the same area. For example white snowflake motives with a number of white layers or vivid water drops with transparent layers of print. 
You can also get several laminated surfaces on your print that creates a shiny or matt effect - depending on the desired look. 
Printing on the back or front of a transparent product, for instance in acrylic, also creates different looks. If we print on the back, the colours are seen through the transparent acrylic and they will appear brighter and shinier as if they are printed on the front.
All of the above effects adds to the right finish for your product.
If you have any questions regarding the effects for your product we are happy to help. 
You can also find examples of digital print in our in-store brochure.
Refinishing of digitally printed items can be by means of laser cutting, cutting plotter, water-jet cutting, heat bending or a combination of all of these methods.
You can see our digital printer in action in the videos below.
Contact us here if you want to know more. 
Questions and answers about digital printing
What materials can you print on?
We can print directly onto sheet materials like acrylic. In the past we have printed on acrylic, wood laminate, veneer, self-adhesive film, PP, polycarbonate and ABS – with truly astounding results!
What is digital printing?
As the name implies, digital printing is a process through which a file, in digitally input PDF format for instance, is sent directly to the printer – printing can then begin. There is no need for film or printing plates, and this is one of the reasons initial costs can be kept down.
How large a blank can be printed?
We print formats up to 50 x 2500 x 4000 mm and can also print from roll to roll.